Gallery of Artwork - Animal Paintings

Please click on thumbnail to view larger image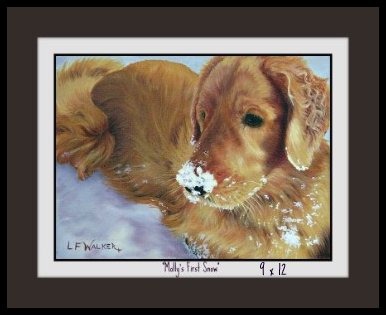 "Mollie's First Snow"
3rd Place Winner, Artful Harvest Art Show
Southern Heartland Arts, Sept. 2011
__________________________________________
1st Place Winner, Summer Members' Show 2013
Monroe Art Guild
A note about this painting of my dad's dog that my daughter thought others would find interesting - as I struggled to get this painting ready for the 2011 show, my oven "cooked" the painting by accident when it was supposed to be off. Since I was outside at the time I didn't realize until I came back in and was met by the smell. Although feeling devastated when I saw that all the light colors had turned brown, and so little time to correct it, I did my best to touch up the brown snow and get it dry and framed. What a big surprise when it won 3rd Pace!
I planned to continue correcting the colors and the fur next to the snow when I brought it home, but did not get around to doing so until I decided to enter it in a 2013 show. So even though this is the same basic painting, it has been reworked, as well as reframed - resulting in another surprise win!
Not only a good lesson for me not to give up when I make a mistake, but also a spiritual reminder of God's grace and how often He cleans up the messed up spots in my life.